AddOn Systems PTE LTD Receives HP Amplify Impact Catalyst 4-Star Recognition: A Milestone in Sustainability
Oct 09,2023 | AddOn Systems Pte Ltd
In a significant stride towards sustainable business practices, AddOn Systems PTE LTD proudly announces its achievement of the prestigious HP Amplify Impact Catalyst 4-Star Recognition. Awarded on September 30, 2023, this recognition stands as a testament to AddOn Systems' unwavering dedication to driving substantial progress in sustainability across various domains: Planet, People, Community, and Business Opportunities.
HP Amplify Impact: Driving Positive Change Globally
HP has long been committed to sustainability and advancing climate action, human rights, and digital equity through our robust and comprehensive Sustainable Impact strategy and goals. We want to empower our partners to make equally meaningful commitments and to work with us towards a circular, low-carbon economy, while accelerating the focus on diversity and inclusion and helping bridge the digital divide.
HP's industry leading Amplify Impact program aims to educate, excite, and empower partners to drive lasting positive change and maximize business opportunities by extending HP's Sustainable Impact strategy*.
We are delighted to come with you on your sustainability journey and have created a recognition program to support you.
For more information on HP Amplify Impact, please visit the program page https://partner.hp.com/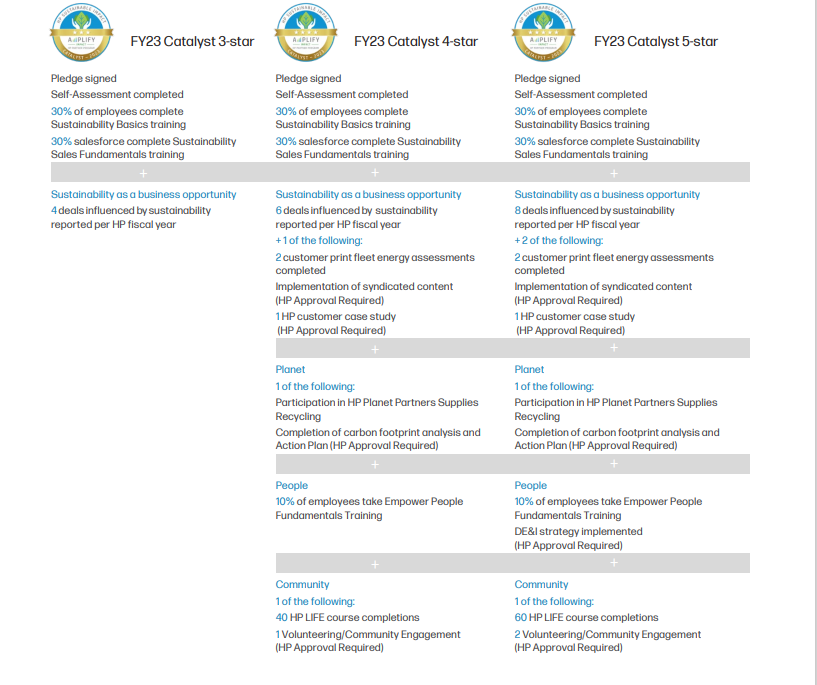 HP Amplify Impact is not just a program; it's a global movement fostering partner sustainability initiatives. Focused on pivotal areas like climate action, human rights, and digital equity, this initiative has now expanded its reach to over 40 countries. By aligning business impact with purpose and values, HP Amplify Impact underscores the crucial link between environmental consciousness and corporate responsibility.
A Legacy of Collaboration: AddOn Systems and HP
For decades, AddOn Systems and HP have shared a partnership rooted in innovation and excellence. This collaboration encompasses a comprehensive range of HP products, including HP, HPE, and HP Poly, ensuring that our customers receive nothing but the best. Together, we have woven a tapestry of technology and innovation, empowering businesses to thrive in the digital era.
The Impact of Sustainability as a Business Opportunity
At AddOn Systems, we firmly believe that sustainability is not just a responsibility; it's a business opportunity. By integrating eco-conscious practices into our operations, we not only reduce our environmental footprint but also foster innovation and growth. Sustainability isn't just a choice; it's an investment in a future where businesses thrive while preserving our planet.
A Heartfelt Thank You to Our Supporters
We extend our deepest gratitude to our dedicated team and invaluable partners for their unwavering support. Your commitment has been instrumental in achieving this recognition. Together, we are pioneers of change, setting new standards for a greener, more sustainable world.
As we celebrate this achievement, we reaffirm our commitment to sustainability, innovation, and excellence. Join us on this journey towards a brighter, eco-conscious future. Together, we can create a world where businesses flourish while preserving the beauty of our planet.
Thank you for being a part of our sustainable legacy.
Comment